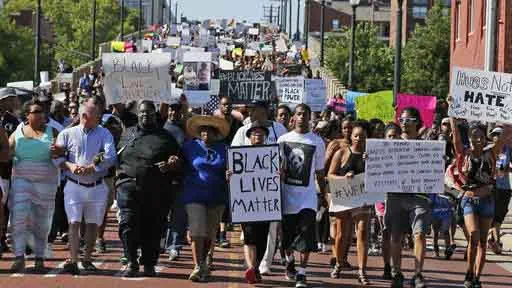 Michael R. Blood | Associated Press
LOS ANGELES (AP) — Black Lives Matter, which two years ago grew out of street protests and a social-media hashtag, has quietly established a legal partnership with a California charity in a sign of the movement's growth and expanding ambition, The Associated Press has learned.
The formal relationship between the national Black Lives Matter network and the San Francisco-based International Development Exchange represents another side of the loosely knit group that many Americans recognize for its sometimes-disruptive demonstrations against police shootings of unarmed black men.
Since November, the nonprofit charity also known as IDEX has been acting as a mostly unseen financial arm of Black Lives Matter, with the ability to receive grants and tax-deductible donations on the group's behalf. More recently, the relationship evolved into a contractual partnership that will run through at least mid-2017.
IDEX is managing the group's financial affairs, allowing Black Lives Matter to focus on its mission, including building local chapters and experimenting with its organizational structure.
"We completely understand the network is in its baby stages, and it's going to take some years" to develop, IDEX Executive Director Rajasvini Bhansali said in an interview.
The goal, leaders say, is to jointly seek social change in struggling communities in the U.S., as well as in Asia, South America and Africa, where the charity has operated for years.
The partnership links the national protest movement, which has chapters in nearly 40 U.S. cities and several more abroad, with a small charity that has worked with the needy on several continents. IDEX collected about $2 million in contributions and grants in the year ending June 2015, according to federal tax records.
"We've connected people across the country working to end the various forms of injustice impacting black people," Black Lives Matter co-founder Alicia Garza said in a statement. The organization needed to partner with an organization that "can support us as we build these connections on a global scale."
It's not clear what the partnership will mean for the overall direction of Black Lives Matter, which has been alternately praised and derided for its confrontational tactics.
The agreement comes at a time when Black Lives Matter and a constellation of related groups are receiving a surge of donations and pledges of financial support. Together they are seeking reforms such as remaking the prison system, adopting universal health care and offering free college education.
For example, the Ford Foundation, working with the Borealis Philanthropy organization, hopes to attract as much as $100 million for the Movement for Black Lives, a coalition with ties to dozens of groups, including the Black Lives Matter network. Grammy-winning singer The Weeknd said last month that he is donating $250,000 to the Black Lives Matter movement.
"It's not a time for donors to sit back and criticize," said Leah Hunt-Hendrix, co-founder and executive director of Solidaire, an alliance supporting progressive political causes that has invested about $800,000 over two years in various groups in the movement, including Black Lives Matter, Black Youth Project 100, Southerners on New Ground and the Million Hoodies Movement for Justice.
"We still live in this legacy of drastic exploitation and marginalization and violence," Hunt-Hendrix said. "If we are ever going to address racism in America, this is the time and this is the opportunity."
A key aspect of the agreement involves exchanging information and building potential alliances between Black Lives Matter and IDEX's partners overseas. The idea is for the groups and movements to learn from each other.
Black Lives Matter has agreed to make donations to IDEX's partners in Zimbabwe and South Africa, in lieu of an administrative fee for the charity's services, Bhansali said.
Part of the tie between the groups is personal: Bhansali has known Garza and fellow Black Lives Matter co-founder Patrisse Cullors for about a decade through their work, especially in the San Francisco Bay Area.
She said Black Lives Matter has a strong interest in learning from social and cultural movements around the globe, which makes it a natural fit with IDEX and its work in needy communities in Africa, Asia and South America, where IDEX has supported more than 500 projects since 1985.
The charity's projects have ranged widely, from helping Nepalese women establish a credit system through so-called microfinancing to working with a group to alleviate industrial pollution in South Africa.
In addition to its agreement with the charity, Black Lives Matter appears to be taking steps to answer criticism that it is little more than noise on the street, lacking direction and purpose. It is part of a recently established coalition of dozens of organizations known as the Movement for Black Lives, which has published a detailed agenda of goals.
Many of the proposals are familiar, such as channeling more money into poverty programs and raising taxes on the wealthy. Other ideas include obtaining reparations for past racial injustices and spending as much as $4 trillion to create government jobs for black workers and subsidizing businesses to hire black workers.
"Things like racism just can't be fixed by this or that single policy," Hunt-Hendrix said. "It requires massive cultural change."
Copyright 2016 The Associated Press. All rights reserved. This material may not be published, broadcast, rewritten or redistributed.