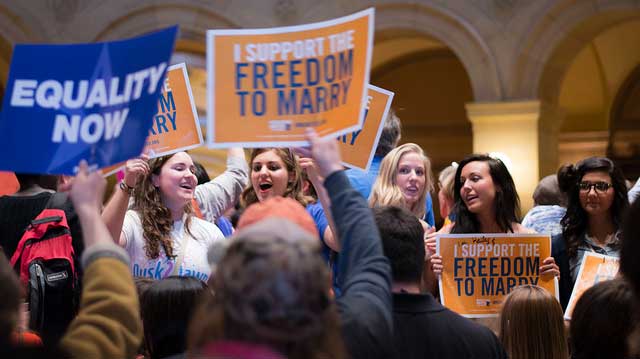 Source: Washington Post
North Carolina lawmakers issued a new legislation that outlaws same sex-marriage, defying the U.S. Supreme Court ruling that says marriage is a right to all citizens, regardless of gender. The bill, called House Bill 780, refers to a line in North Carolina's state constitution saying that marriage between two people of the same gender is not valid.
Sponsors of the legislation argue that the Supreme Court "overstepped its constitutional bounds". However, North Carolina House Speaker, Tim Moore, released a statement saying, "There are strong constitutional concerns with this legislation given that the U.S. Supreme Court has firmly ruled on the issue, therefore House Bill 780 will be referred to the House Rules Committee and will not be heard."
Earlier in the year, North Carolina lawmakers passed a law that banned transgender bathrooms.
Read full story at: Washington Post