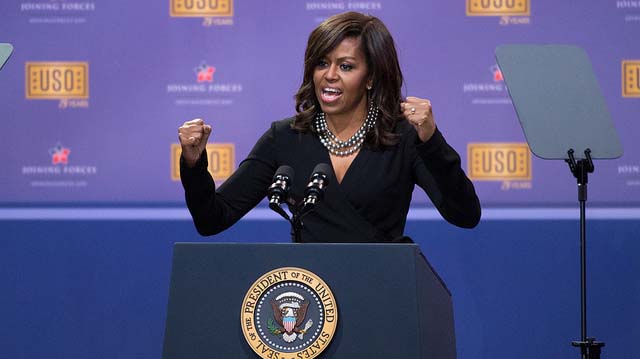 There are currently only 10 elected female leaders in office around the world, according to Al Jazeera, and none of them are in the United States.
Yet four of the 12 countries that were voted overall "Best Countries" in 2016 for the U.S. News and World Report's annual rankings of countries were led by females. These include Switzerland, Germany, Norway, and Denmark.
So, where would we be without our female leaders? The answer: probably not very far, and we could likely be in a better place if we encouraged, supported and embraced our female leaders.
Every day, millions of inspiring female leaders are fighting against stereotypes, breaking down barriers, building legacies and leading countries, and indeed some of them have earned recognition for their contributions…but not without the heavy weight of critics and naysayers, and hard fought battles.
Supreme Court Justice Ruth Bader Ginsburg, for example, who has dedicated her life to advancing women's rights and who landed on Forbes Magazine's list of The World's 100 Most Powerful Women in 2009, and on Time Magazine's 100 Most Influential People in 2015, endured a wave of criticism from several major news outlets for her comments on Donald Trump during the 2016 presidential campaign, with critics saying that a Supreme Court Justice "should not be involved in a political campaign." Yet her life has been punctuated by her political involvement and leadership.
Former First Lady Michelle Obama, who is an American Lawyer and the first African-American First Lady of the United States, led movements to protect the rights of the LGBTQ community and led the "Let's Move!" initiative to fight childhood obesity. She was nevertheless heavily criticized by politicians who claimed that she was leveraging the government "to exercise her views on eating"; other critics claimed that the impact of the initiative was "uncertain." Yet a government report noted that "whether children's school lunches are based on the new nutrition guidelines suggested by the initiative, or children use equipment donated to schools to promote exercise, it is nearly impossible for children to not be affected by Let's Move."
In any case, female leaders who have enjoyed some recognition for their contributions to society have inevitably also had to deal with people who are averted to female leadership.
But that hasn't stopped female leaders from delivering results.
Some of the most successful nonprofit organizations in the world today are led by female leaders.
Anita Borg, for example, rooted in helping thousands of women grow their careers in technology, is currently led by President and CEO Telle Whitney; The National Museum of Women in the Arts, one of the world's largest cultural institutions dedicated to highlighting women's contributions to the arts, is currently led by Director Susan Sterling Fisher; American Jewish World Service, the only Jewish organization dedicated solely to ending poverty and promoting human rights in the developing world, has been successful under the leadership of social justice advocate and former elected NYC official, former President and CEO, and current Global Ambassador, Ruth B. Messinger; The Hunger Project, dedicated to leveraging communities to end hunger and poverty, has helped thousands of women and communities under the leadership of President and CEO, Åsa Skogström Feldt.
Additional examples of women breaking barriers in the nonprofit sector can be viewed at mOppenheim.TV.
Sources: Al Jazeera, Quartz, Washington Post, United States History,